If there is something we have learned from 2020 is the effectiveness of online shopping. Even as we try to regain some normalcy, one thing is for certain: the popularity of blogshops is on the rise. To give you a headstart on your shopping, today's article will feature the 7 top blogshops in Singapore. These online stores are convenient and regularly stock the highest quality of products. Check out our top picks below.
1. WardrobeMess
If you are looking for high-quality clothes at the most affordable prices, you should check out WardrobeMess. This blogshop appeals to the ordinary Singaporean seeking to look good on a tight budget.
For as little as $9, you can get a decent top. This blogshop also features really cute shoes and bags. When you order products from this site, you can either pick them physically or have them shipped to you. For more information on their collections and sales, follow WardrobeMess on Facebook, Instagram, and Twitter.
Highlights
👍Cute clothes and accessories at affordable prices
👍You can pick items physically or have them delivered
2. ASICS Singapore
Lovers of running and all things sport, this one's for you. Whether you are looking for running shoes or workout clothes, ASICS Singapore has got you covered. Their workout outfits are not only comfortable but also highly fashionable.
They also regularly release new collections and run discounts on their items. If you are looking for a cool deal on the latest sportswear, you should definitely shop on the ASICS Singapore site. To learn more about them and their products, follow them on Facebook.
Highlights
👍High-quality sportswear
👍Regularly run discounts
3. Fayth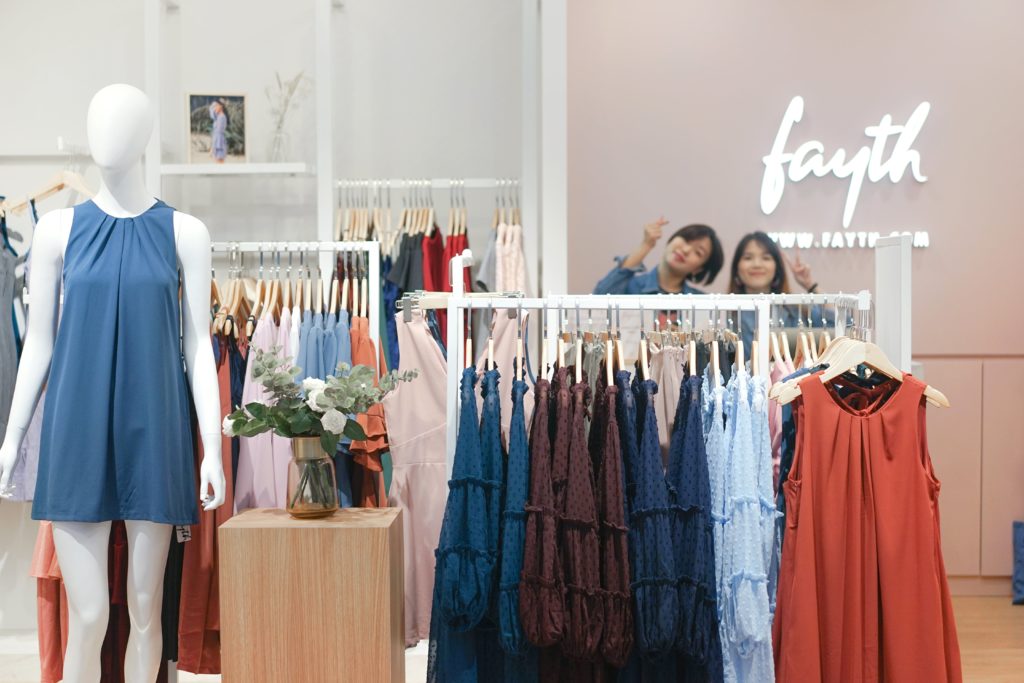 Geared towards the modern Singaporean woman, Fayth stocks stylish statement pieces and a ton of modern chic outfits. Known for its love of pastel hues, Fayth makes all its clothes in house and imports fabric from all over the world.
The clothes from this blogshop are known for their intricate detailing and girly vibe. Those with little ones will be happy to know that Fayth also features a cute Mommy & Me collection that is difficult to resist.
Highlights
👍Intricate details on the clothes
👍Cute, girly designs
4. Love, Bonito
This well-established blogshop is known for its high-quality products. Founded by Rachel Lim, Viola Tan, and Velda Tan, it is known to sell its clothes at a higher price than similar blogshops.
However, the investment is more than worth it. Every week, this blogshop unleashes new items and is always able to keep up with the latest trends. Moreover, the online store is complemented by the presence of actual brick and mortar stores.
Other things you will love about this blogshop is its great customer service, amazing refund policy, and convenient stylist sessions. For more on Love, Bonito follow them on Facebook, Instagram, and Youtube.
Highlights
👍Trendy, high-quality products
👍Good customer care
👍Solid refund policy
5. A for Arcade
If you are looking for a place where you can get stylish clothes for both genders, you should look into A for Arcade. With a wide selection of clothes to choose from, this blogshop never disappoints.
While it stocks some great suits and shorts for men, it caters to women by providing chic dresses and pants. Whatever you're looking for, you will find it here. You will also love that A for Arcade recently launched a program called Arcade Tokens. Under this program, customers get a token for every dollar spent.
In return, 200 tokens can be redeemed to get a $10 voucher. Even in these difficult times, it is refreshing to see that A for Arcade has found a way to reward customer loyalty. For more on this blogshop, follow them on Facebook.
Highlights
👍Sells clothes for men, women, and children
👍Has unique and quirky pieces
6. Ohvola
Ohvola is one of the few blogshops that has something for both moms and their babies. From its cute Ohvola Mini line for kids to the endless dresses and skirts for modern women, this is a one-stop-shop in every sense of the word.
Its clothes are usually very sophisticated, feminine, and soft, radiating a unique warmth. If you have been looking for a place to get matching outfits for you and your little one, this is the blogshop for you. Follow Ohvola on Facebook, Twitter, and Instagram for the latest updates.
Highlights
👍 Has cute mommy and me outfits
👍Sophisticated and high-quality clothes
7. Supergurl
As can be alluded from its name, this blogshop mainly targets young women. In fact, most of its customers are women in their first jobs. For as little as $12, you can get an item from Supergurl. Upon purchase, you can choose to go for your package personally at the Bukit Batok office or have it delivered to you at a fee.
Alternatively, you can pay $3.50 for standard delivery. Ultimately, clothing items from Supergurl embody all that it means to be a young woman; fun and free. For more on Supergurl, follow them on Facebook, Twitter, Instagram, or YouTube.
Highlights
👍 Has affordable high-quality clothes
👍 You can pick orders personally or opt for delivery
So there you have it; these are the top 7 blogshops you should follow in 2020. Not only do they offer a great selection of clothes, but they also do doorstep delivery; a good feature to have in these uncertain times. So, if you're have been postponing your shopping session, it is time to dive in!
Related articles:
Top 30 Lifestyle Bloggers you should follow [2020]
Top 30 Food Bloggers in Singapore [2020].
Written by: Warren