In this digital age, it has become increasingly easy to order gifts for people online and have them delivered to their doorsteps. There are plenty of companies ready to create and deliver premium corporate gift baskets for you within hours.
So, if you have been procrastinating getting something for your colleagues or clients, you have no excuse; it is time to get on it! In today's article, we feature the best services that can set you on this journey comfortably and affordably. So sit back, relax, and check out our top picks.
1. Simply Hamper Singapore
Fruits, chocolate, flowers, wine, you name it; Simply Hamper has got it. Its baskets are large and even contain products imported from Europe, especially when it comes to wine, chocolate, and cookies. If you are shopping for someone with fine taste, Simply Hamper is the one for you.
We also love that Simply Hamper has an eco-friendly initiative through which it gives vouchers to customers who return their empty baskets for reuse. A gift basket from Simply Hamper usually costs $45 to $430, giving you a huge price range to choose from. You can pay for your package using PayPal, American Express, Discover, MasterCard, or Visa.
While they do offer free delivery, those in a hurry can pay $20 for an express service. For inquiries, call Simply Hamper at +65 6443 3011 or send them a message on Facebook.
Founded in 1975, Noel Gifts International has decades of experience in the gift hamper business. It is, therefore, no surprise that it has won several awards in this industry. It offers a variety of gift hampers including get well soon hampers, chocolate baskets, and gourmet hampers.
For a unique experience, you can even have them create a custom basket according to your budget. They even have organic hampers and wine gift baskets if that is the kind of stuff you're looking for. Interestingly, it is one of the companies that use real flowers in their hampers.
Ultimately, Noel Gifts International continues to be known for its high-quality baskets and consistent reliability. Their baskets cost from $35 to $400 and their delivery fee is from $6.96 to $19.2. They accept Paypal, eNets, Visa, and Mastercard payments.
For inquiries, call them at +65 6299 1133 or send them a message on Facebook. They are also available on Instagram, Twitter, and YouTube.
Excellent and prompt service…it's very nice of the staff to inform you that the delivery was unattended as my mum happened to be away to do marketing… the flowers are beautiful and fresh too according to my mum! She likes it so much! Thank you very much! – Gwen
When it comes to variety and versatility, there is no other company quite like Humming, It provides gift baskets for a variety of occasions ranging from holidays, birthdays, and even housewarmings.
Its baskets may contain flowers, food, or even wine. But what customers love most about Humming is its ability to dress up or dress down a hamper according to a client's budget. While there are expensive hampers with premium wines like Martell Cordon Bleu Cognac, you can still find pretty decent options for less than $100.
Ultimately, Humming has a little something for everyone. For more information on their offerings, follow Humming on Facebook, Twitter, and Instagram.
Thank you for your service, Humming Flowers & Gifts. Your staff has been very efficient in informing me about my order and also my delivery and reacting very fast to my request. Stay safe. Thank you for your service. – Monica
4. Gift Hampers Singapore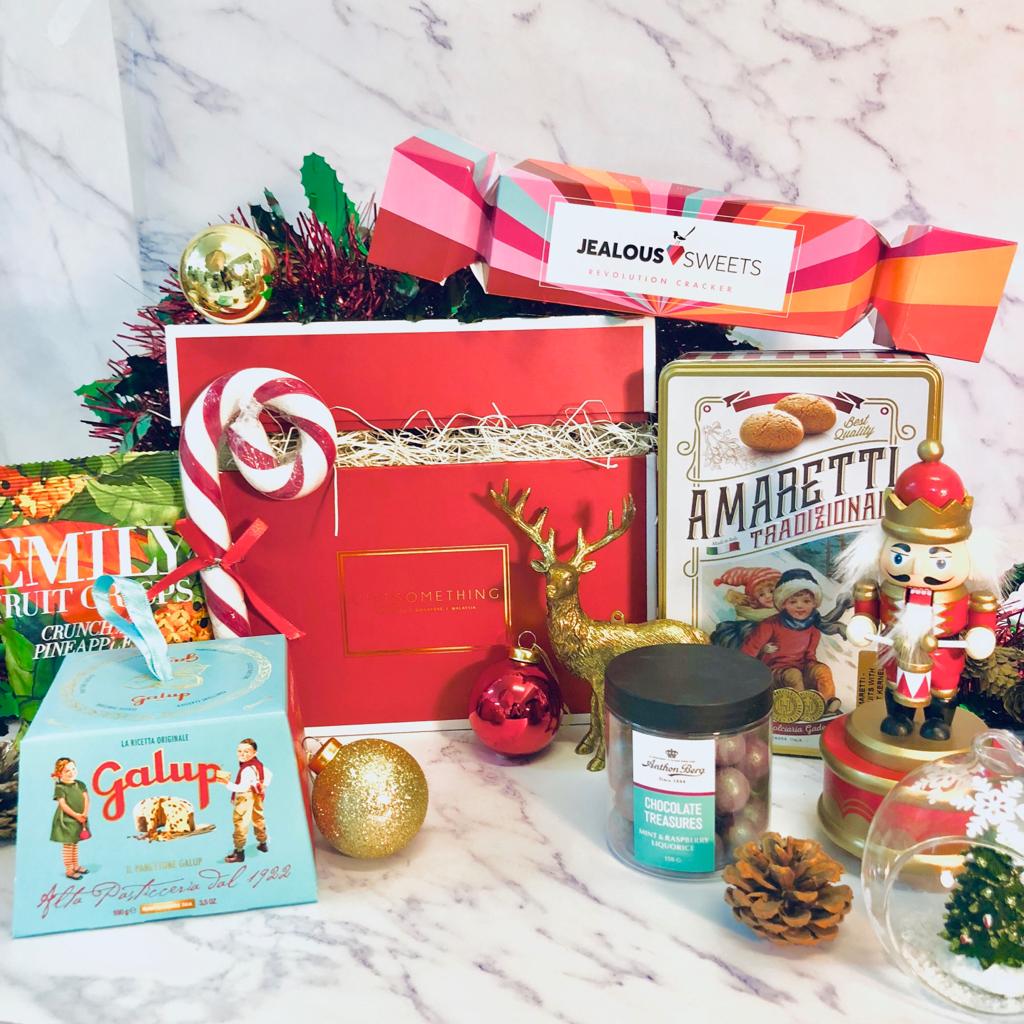 Whether you are looking for gourmet, lifestyle, or fruit hampers, Gift Hampers Singapore has got you covered. With its wide range of products and several payment methods, it is loved by many. The prices for gift hampers start at $85 and they offer free delivery.
Most of their hampers are medium-sized and can be customized by adding a note or some flowers. We also love that this service supports multiple payment methods such as PayPal and credit cards. For inquiries, call Gift Hampers Singapore at 6280 2212 or send them a message on Facebook.
5. A Better Florist
Located on 12 Dunlop Street, A Better Florist offers a variety of luxurious hampers at affordable prices. Apart from corporate gift baskets, they also deliver get-well-soon hampers and premium chocolate gift baskets for those obsessed with everything sweet.
As their name suggests, they also offer some of the best flower arrangements in Singapore. One of their medium-sized baskets goes for between $65 to $125 and they offer free same-day delivery. You can pay them via Bank Transfer, PayPal, MasterCard, or Visa.
For updates on A Better Florist, follow them on Facebook and Instagram.
6. Bloomdale
If you are looking to gift someone some bath products, Bloomdale is the way to go. Beauty lovers will love Bloomdale's arrangements due to their aesthetic value and the high quality of products they include in their baskets.
These packages are greatly loved by women, especially new moms and those expecting. Bloomdale's medium-sized gift baskets go for between $40 to $250; a worthy sum to spend if you want to make an impression. Moreover, they offer same-day delivery at only $6.50.
To learn more about Bloomdale and its offerings, call them at +65 6749 3333 or send them a message on Facebook.
7. Hello Chocolate
If your friends and colleagues just can't get enough of chocolate, you should get them a gift basket from Hello Chocolate. They deliver several luxurious types of chocolates including raw, dark, milk, white, spicy, and vegan chocolates. They even feature some award-winning chocolates and make an effort to use sustainable packaging.
The prices of their chocolate baskets range from $3 to $500 and they do worldwide deliveries. Within Singapore, they do single day delivery and offer free shipping for orders above $65. It is also very convenient that Hello Chocolate accepts several payment methods such as American Express, PayPal, Apple Pay, Mastercard, and Visa.
For inquiries, shoot them an email at [email protected] or send them a message on Facebook.
So there you have it; these are the best corporate gift basket delivery services that Singapore has to offer. No matter what you need, you will find it on this list.
Related topics: 10 Best High-Quality Wines in Singapore
Written By: Warren